A Spoken Portrait can be:
a life-story — a kind of spoken memoir — or a chapter of that story;
the story of a career;
an account of a project or adventure;
a celebration of what makes a person tick — a collection of memories linked to their passions, like music or gardening. For example, one self-portrait we did recently is inspired by the subject's love of fashion and food.
Spoken Portraits are a great way of capturing a person's stories, voice and personality. We produce them from recorded interviews, so there is no need for the subject to put pen to paper which can be a challenge for even the most prolific correspondent. They come as broadcast-quality audio CDs in beautifully hand-crafted presentation boxes.
In capturing [my parents'] voices so beautifully and with such clarity you have created one of the most treasured gifts I will ever receive. An heirloom painted of words … very much like listening to a personal edition of desert island discs.
— Jamie, Kent
The Spoken Portrait of my mother was done as a 90th birthday gift. She absolutely loves it! However, it has in fact been as much a gift to ourselves as to her. We now have this wonderful story of her life, in her own words, to treasure. Rosie was a pleasure to work with from beginning to end and she really came to understand her "sitter". Rosie's gentle, encouraging manner with my mother was especially appreciated.
— Donna, London
An Impressario Recalls his Time in Theatre (Clips)
These extracts come from a one-hour Spoken Portrait in which Sir Bob Scott recalls his time as Managing Director of the Manchester Palace and Opera House from 1977 to 1991. We based the Portrait on interviews with Sir Bob at his home. The short musical excerpts are from the shows, ballets and operas that he talks about. Here's what Sir Bob said about the experience:
I found the whole process liberating. I had long been thinking of trying to put some memories down but finding it impossible to put pen to paper. Working with Rosie on a spoken self-portrait of one important period of my life gave me the editorial focus and impetus I needed. The whole process was thoroughly enjoyable and now I have CDs to give to friends and family.
Portrait of a Maker: Podcast for LUSH cosmetics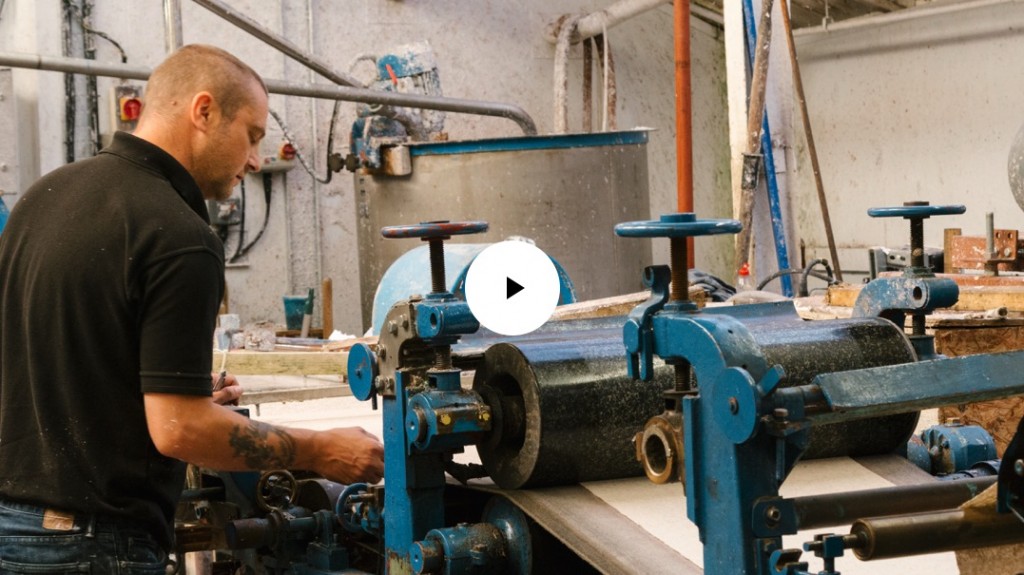 This is the first in a series of podcasts that we are producing for LUSH cosmetics showcasing their makers, inventors and innovators. It is available to listen to on the LUSH player. It's an example of the kind of work we do for organisations. Unlike the spoken portraits of private individuals, this podcast have a narrator: Cathy Haynes.
Here, we follow Master Paper Maker Gary Fuller at Frogmore Mill as he produces a new kind of packaging paper using banana fibre. When the machines were rolling the Mill was incredibly noisy! The challenge for us was both to capture Gary's voice as cleanly as possibly, and to record and mix in the mechanical sounds so as to give the listener the feeling of being there inside the Mill as the paper was being made.
A Celebration of a Lifelong Passion for Fashion and Food (Clips)
These clips are taken from a 40 minute Spoken Portrait in which the subject recalls her childhood growing up during the war, her time studying fashion and working as a professional dress designer, and her early married life. We were commissioned to produce the portrait by her daughter, who thought it would be a lovely project for her mother to work on. Rather than attempt to cover all aspects of her mother's life during those years, we decided to focus on two of her great passions and joys: food and fashion. You can listen to the full 40 minute self-portrait here.
Portrait of a Children's Opera: Podcasts for Blackheath Halls
This is another example of the kind of audio portraits we produce for organisations. It's the first in a series of ten podcasts about Paws & Padlocks: a newly commissioned children's opera by composer Kate Whitley and writer Sabrina Mahfouz. The podcasts follow the people involved in producing the opera from the writing and fundraising stages through to rehearsals and the final performance. You can listen to all ten podcasts in the series on Soundcloud. 
Paws & Padlocks was commissioned by Blackheath Halls with support from the Arts Council England and a number of other charitable trusts. It premiered at the Blackheath Halls in April 2017. You'll find more information on the Blackheath Halls website.